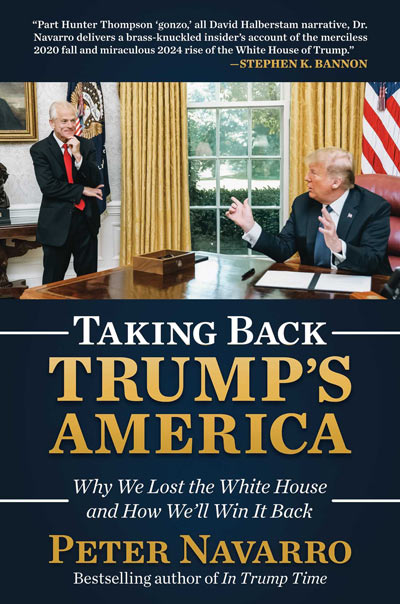 Joe Biden and the Democrats stole the 2020 presidential election from us.  Now we in Trump's America must take the White House back.
My new book Taking Back Trump's America offers the definitive insider's battleplan for retaking the Trump White House in 2024.
We must Take Back Trump's America before the Woke Biden Left destroys the American economy, destroys our borders, and leaves this country in smoldering Chinese and Russian ruins.
Taking Back Trump's America is not just the winning battle plan for a Trump victory in 2024.  It also explains why taking back Congress from the Pelosites in 2022 is so critical to the return of Trumpism.
Trust Stephen K. Bannon when he praises Taking Back Trump's America as a brass-knuckled insider's account of the merciless 2020 fall and miraculous 2024 rise of the White House of Trump.
So please.  click this link right now, order Taking Back Trump's America today, and strike a blow for freedom!
"A brass-knuckled insider's account of the merciless 2020 fall and miraculous 2024 rise of the White House of Trump."
Steve Bannon, the chief architect of Trump's 2016 win
---
Taking Back Trump's America Podcast